Aladdin Movie Review
Saba Alizadeh
Digital painting and expanded animation
OCAD UNI
The best way to describe the new Aladdin live action remake is that it is simply … MAGICAL. I think it helped in a way that the expectations for this movie were lowered by the trailers, because then the actual finished product came out as a surprise. I think it's safe to say that while we feared Will Smith's ability to pull off playing the Genie (though I never should have because it's Will Smith!), he was the best thing in the film.
While the portrayal of Robin Williams was honored, the human aspect of the Genie brought a new and engaging to twist to both the story and to the character. As for the titular character himself … Mena Massoud succeeded in completely convincing me that he truly was Aladdin, and managed to make me swoon just as the cartoon version of Aladdin did when I was a little girl. He had it all; the attitude, the swagger, as well as the charming smile. Now Jasmine in this movie was a pleasant surprise and probably the only character I would say improved with the live action. While almost all characters kept their great qualities in both the animation and the live action version, Jasmine definitely got bumped up to becoming both a stronger and more interesting character (and that bonus song still gives me chills whenever I listen to it!) I guess the only problem with this movie was Jafar.
He was too soft spoken and did not have the same unquestionable evil face that the animation Jafar did. Animators often exaggerate expressions and movements to convince the viewers of someone's character. There were no expectations of that for a live action film, but some 'evil' looks and more expression in his voice would have made the performance much better. Overall however along with the actors, the colours, the production, costumes, and the songs made this movie the best live action Disney adaptation to date (though I might be biased as Aladdin is my favorite Disney film). I was thoroughly impressed, and I will definitely check out more of Guy Richie's films in the future.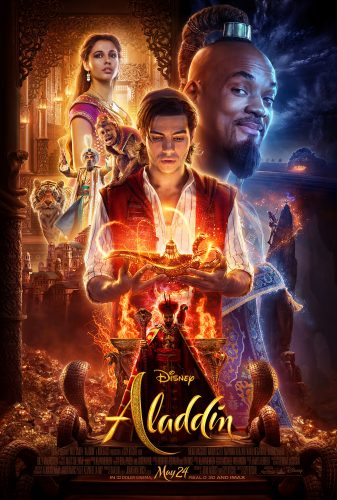 Director: Guy Richie Genie – Will Smith
Aladdin: Mena Massoud
Jasmine: Naomi Scott
Jafar: Marwan Kenzari
Sultan: Navid Negahban
Dalia: Nasim Pedrad