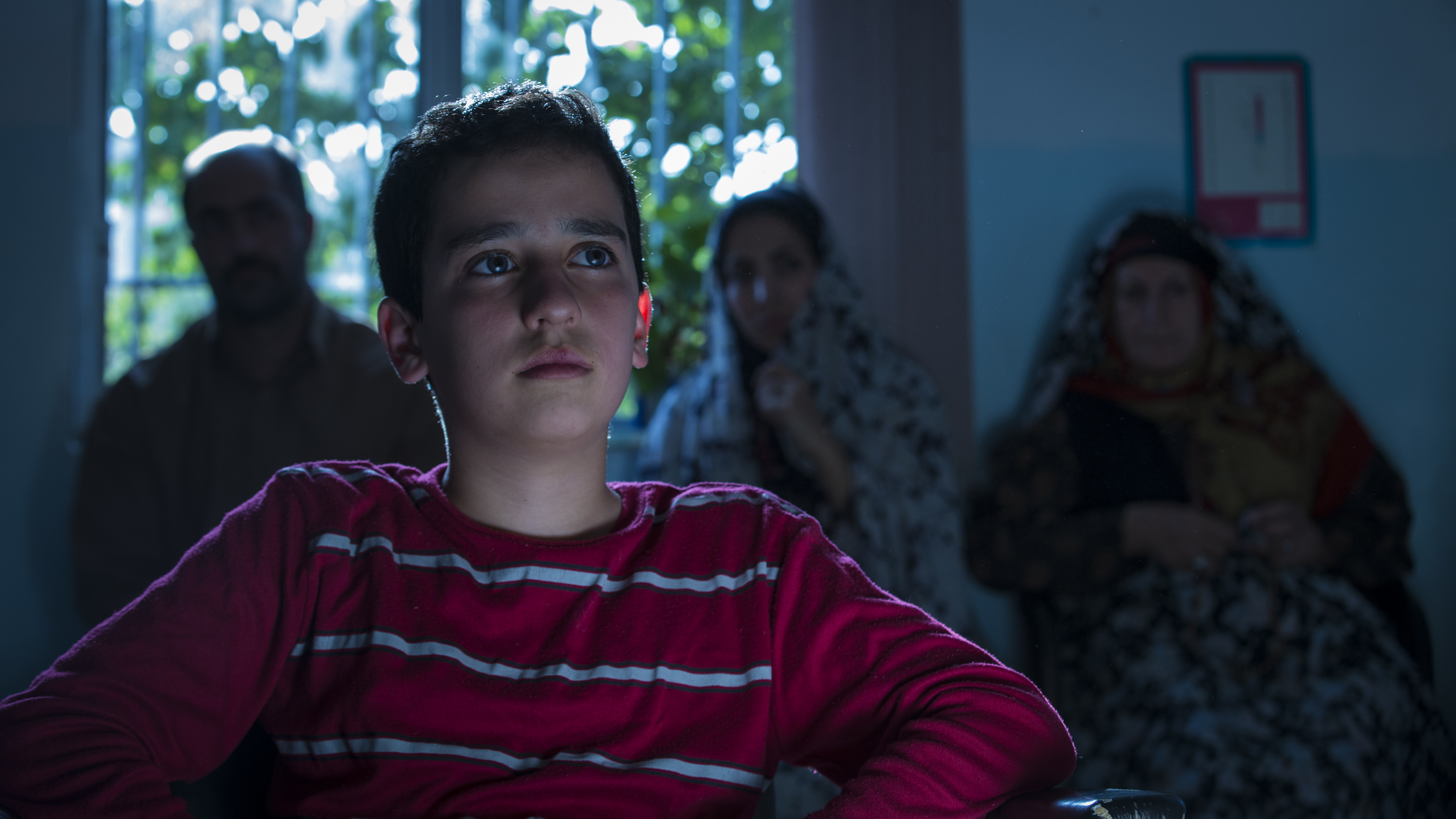 Face to face with Masoud Soheili
Pooyan Tabatabaei
Canada

Blue Eyed Boy directed by Masoud Soheili is one of the narrative films – from Iran –that will be featured at the Competition Section of 2015 Eastern Breeze International Film Festival.
Soheili is an award-winning, independent filmmaker born in Mashhad, Iran, in 1988. Masoud also achieved a Bachelors of Arts degree in Law from Ferdowsi University. His interest in film derived from his work in cinema as an assistant director for several professional movies and currently has over seven years of experience in this position.
Other than directing films, Soheili also enjoys writing scripts. One of his works consists of "This is the Deed, Mr. Doctor!" (short film, 2010) directed by Omid Alizadeh. Another one of his scripts is called "Zero Boundary" which won Honrable Mention in moviepoet.com's March 2012 contest.
His first short film was called "The Car Blow the Horn Just for the Women" in January 2-13, which officials selected and awarded in some national and international festivals.
Soheili's latest short film, which will be premiered for the first time in Canada at EBIFF, is called "Blue Eyed Boy". It was selected in more than 40 international film festival. The film has won a Grand Prize in Mirlift International Short Film Festival in Morrocco, Best Film in the World Auteur Short Film Festival in India, Tio 10 Best Film in the Beinten Film Festival in Russia, and the NETPAC Student Award from the Jogja Film Festival in Indonesia.
What is "Blue Eyed Boy" about? We interviewed Masoud Soheili, himself, and this is what he had to say about his short film:
"[Blue Eyed Boy is about] a boy, with an unusual form of color blindness, causes his parents shame when he accidentally kills some village livestock. The parents seek medical treatment for him, and when hospital doctors cannot help, they take him to a local Shaman for a remedy."
Lucky enough, we were able to conduct an interview with Masoud Soheili comprising of 8 questions. This is how the interview went:
1. What was the production process that went behind bringing your film to life?
"After finishing the script, I traveled to villages around my city to find the best shooting location, and the brightest acting talent. Finding the little village boy who can act well, and old woman who can understand what we want from her, was not easy. Finally, I choose my little brother as a main actor and we started training on the script. I traveled to another city near the village to select actors for the role of his father and mother. It was important that everything ran smoothly. Then we started training with all my cast in an office before shooting in village, which proved helpful."
2. How did you get started in film?
"I read the story, 'The Blue-Eyed Boy' in 2006. Before then, I thought of making a film with a monochrome point of view, but not black and white. Reading the book compelled me, even more, to make a film with a blue monochrome point of view. So I adapted it into a script.
I wrote many drafts and tried to really elevate the script for this blue monochrome point of view. I wanted to expand this from a simple children's story, into something deeper that would appeal to an adult audience as well. I tried to give depth to all the characters without forgetting that the story is about a boy with blue monochrome vision."
3. What awards, accolades, and recognition has your selected film, received?
Awards:
"Grand Prize" of Mirlift International short film festival, Morroco
"Best film" of World Auteur Shorts Film Festival-14, India
"Student award" of Jogja-Netpac Asian Film Festival, Indonesia
Best Film top10 of Beinten International short film festival, Russia
Officially Selected:
Mirlift International Short Film Festival, Morocco 2014
6th International Children's Television Festival "Dytiatko", Ukraine 2014
3rd Festival De' Contemporary Cinema EKADESHMA, Nepal 2014
Grace film festival, United States 2015
West Florida Film Festival, United States 2014
World Auteur Shorts Film Festival-14, India 2014
Beinten Short Film Festival , Russia 2014
Tehran International Short Film Festival, Iran 2014
London Iranian Film Festival, 2014
Bridge Film Festival, Kosovo 2014
Little Village Film Festival, Mexico 2014
Lahore International Children Film Festival, Pakistan 2014
Unofficial Google Plus Film Festival, 2014
The Online Film Festival (TOFF), 2014
Weyauwega International Film Festival, United States 2014
The Tallinn Festival of New Cinema, Estonia 2014
Zubroffka International Short Film Festival, Poland 2014
Jogja-Netpac Asian Film Festival, Indonesia 2014
5th Siliguri International Short Film and Documentary Contest, 2014
The Short Films From BEYOND, 2014
4th Life Sciences Film Festival of Prague, Czech Republic 2014
Inspiration Film Festival of Florida, United States 2015
3rd International Motion Festival, Cyprus 2015
The New Haven International Film Festival, United States 2015
PygmyFlix International Film Festival, United States 2015
College Town Film Festival, United States 2015
Three Cities Film Festival, United States 2015
Festival International ENTR'2 MARCHES in Cannes, France 2015
Alhambra Theatre Film Festival in Indiana,USA 2015
Riverside International Film Festival, United States 2015
Underground Film Festival, Germany 2015
4. What awards, accolades, and recognition have you and your films received over your career?
Before "Blue eyed boy," I made another short film named "The Car Blow the Horn Just for the Women," that was awarded in some national festivals and officially selected in some international festivals.

5. What's it like to have your film in a festival EBIFF that appeals to so many cultures?
"It's sad that people in different parts of world don't understand each other due to their misunderstanding of other cultures. What EBIFF is doing, is really awesome. They are bringing different cultures together with these great films. This gives the diverse audience a chance to learn what it's like for people in other parts of the world! What we need now, is understanding and respect for each other. I believe EBIFF is making this happen. Thank you!"
6. What kind of message are you trying to convey to your fans here in Toronto?
"I didn't know that I had fans in Toronto (Kidding). Respecting each other is the important thing nowadays. This is one of the messages of my film, too."
7. What are some ongoing or upcoming projects you are working on?
"I'm working on a new short film script that I hope that can shoot it soon in spring. I don't want to talk about details of it, but you can probably watch it in EBIFF2016."
8. In a few sentences, describe your artistic vision when creating films.
"What if you could only see the world in blue? Blue Eyed Boy explores this concept through the narrative of a young village boy, who sees the world only through the colour blue.
The boy's traditional family, worried about his bizarre condition, takes him to the doctors who confirm he is healthy. This light-hearted film deals with the idea of individualism and the struggle with the traditional family to accept the boy's unique perception of the world.
I am very happy with the way the film turned out, and am even happier to share it with the world."